Wiring
Motorized Shade Power Wiring for New and Existing Construction
Updated December 31, 2014
- DC Motors (12V or 24V)
Pre-Wiring for low voltage (12 or 24 Volt DC) and line voltage (110 Volt AC) motorized window treatments is an important process in the planning stage of a new building project and must be considered before the walls are closed. Many builders are now using the spray foam insulation instead of the fiberglass batting. Fishing wire through foam insulation is very difficult if not impossible.
"Structured Wiring" for most motorized window covering systems is accomplished by "Home Running" wire from each window to a central location where the power will be distributed (Power Panel) to each of the window covering motors as outlined by the illustration below using a Somfy ST30 Sonesse RTS (Radio Frequency Motors). The motors in the example below are controlled with an RF hand held remote controller or a Wireless RF Wall Switch such as a Somfy DecoFlex.

Many window coverings can be powered by low voltage (12 or 24V DC). Many low voltage motors are capable of lifting shades up to 17+ pounds and traversing drapery up to 130+ pounds depending on the manufacturer of the motor. For large areas of glass where the shade will exceed this weight, an AC motor will have to be used or the shade split into 2 or 3 sections to reduce the weight so DC motors can be used. DC wiring has fewer regulations than AC and can be done by the homeowner in many States. Since there are many type of motors available and their wiring needs varied you will need to decide a few things first.
1) What type of shade or window covering am I going to use?
(Roller Shade, Cellular, Pleated, Roman, Drapery etc...)
2) Can this type of shade or window covering be powered using low voltage?
(In most instances...YES! Depends on the weight of the shade)
3) How would I like to control the window covering?
(IR-Remote, RF-Remote, Wall Switch, Touch Pad, IPad, Cell Phone,
Automation etc...)
4) How much do I want to spend?
(IR, RF and Wall switch the cheapest, automation controllers more $$$)
5) New or Existing Construction?
(Running wire in new construction is easier than existing)

Wiring for most low voltage projects can be accomplished using 16/4 or 18/4. The first number refers to the Wire Gauge and the second number refers to the number of conductors. 16/4 for example is a 4 conductor wire and is heavier than 18 Gauge. A good "Rule of Thumb" is to use 18/4 for wire runs under 50Ft and 16/4 for wire runs up to 150Ft. These parameters should cover most residential situations encountered. When using a 4 conductor wire for example 16/4, two conductors are use to power the motor and two conductors are used to communicate with the motor. Do not skimp or use cheap wire and DO not use lamp cord ever! Use good quality wire that is CL2 rated or higher. The "CL2" is a wire rating that allows the wire to be run inside a wall and will pass most low voltage residential inspection. In commercial installations, you will need to verify and use what the electrical specifications call for. For residential applications, we typically use 16/4 "CMP" rated and shielded with drain. The "shield" is a foil wrap around the wire that helps prevent interference from other electrical sources that may disrupt the power and communication to the motor. The "Drain" is a small wire wrapped in the wire bundle that can be run to Earth Ground and drain any harmful interference in the wire run. If you want to run the wire yourself and save some money, check with your local Electrical Inspector to find out what types of wire will pass an electrical inspection. For more information on wire specs: [More Wire Info]
Using 16/4 or 18/4 will allow you to use motors and systems from Lutron and Somfy which are the two most widely used and recognized motorized window coverings systems available. Not only are these two systems scalable but integrate easily with many popular and well know home automation systems including: Crestron, Control 4, HAI, SmartHome, Lutron HomeWorks, RadioRa2 and many others!!! Many automation companies have embedded software drivers that allow control of almost any type motor that will be used. Some automation companies, however, have proprietary communication protocols that only allow use of their motors.

New "SmartHome" systems or "Hubs" (SmartThings, Wink, Iris etc.) are available on the web and in stores at very affordable price points and communicate with the ZWave / Zigbee protocol and can be setup by the user and run Android / iPlatforms. These are user friendly systems that can control your entire home and are worth looking into. However, with any of the above mentioned systems, the Structured Wiring will have to be done or you will be buying lots of batteries!


If you are planning on installing skylights, just pre-wire for them now!!! You will thank yourself down the road when you are sitting there on a Sunday afternoon watching the football game on your brand new 63" plasma with the sun obscuring half the screen.
- AC Motors (110V Line Voltage)
AC motors are capable of lifting up to many hundreds of pounds. Wiring for AC motors will require using an electrician in many States. AC motors usually require using wire consisting of 14/3 with ground. 14 is the Gauge of wire and 3 is how many Conductors or wires are in the wire bundle plus the ground wire, so essentially there are 4 wires in the bundle counting the Ground wire. Using 14/3, the wires for a "Dumb" AC motor are used the following way:
-White = Neutral
-Black = Motor direction 1 or UP
-Red = Motor direction 2 or DOWN
-Ground = Earth ground
Since many AC motors are "Dumb", they need a separate Control Board to operate them. In addition to using 14/3 wire to power the motor, separate Low Voltage control wiring will also have to be run to control the motor. The control wiring is usually CAT 5 or equivalent and home run to the location of the Control Board that will operate the motor.
Using "Smart" AC motors will eliminate the control board and the associated low voltage wiring. Smart motors have the control board built inside the motor and are usually controlled with an IR (Infra-Red) or RF (Radio Frequency) mode of operation. Smart AC motors can be plugged or wired directly into a standard 110V Duplex outlet and require 14/2 wire. Newer "Smart" motors will also require a control wire (usually CAT5) that is run to each motor and essentially creates a "Data Bus" and will allow communication between all motors from a single location. One example of this is has been developed by Somfy and is called "SDN" Somfy Digital Network. The SDN system was engineered for large commercial buildings to control many and sometimes hundreds of window blinds. However today, some homes may be larger than some office buildings and SDN might offer another control solution. Many AV-Techs like hardwired solutions like SDN for its known reliability.

- Wiring for Existing Homes (Retrofitting)
For existing homes where the walls are closed up, wire will have to be "Fished"
through the walls, under window casings and baseboards and through floors to a power source. A little creativity and effort will be needed to accomplish this task. It will be easier to use DC motors at this point. Many DC motors can be powered and controlled by using 18/2 or 18/4 wire. 18/2 is small diameter wire and easy to conceal.
If you are not able or willing to fish wire, contracting wi
th your local Home Alarm, Security Company or Sound-Audio specialist might be the best. These folks run low voltage wiring all day long to windows and doors so they know the tricks and traps of running this type of wire and are usually able to complete the job in a short time.
- Wiring for Existing Battery Operated Blinds (Retrofitting)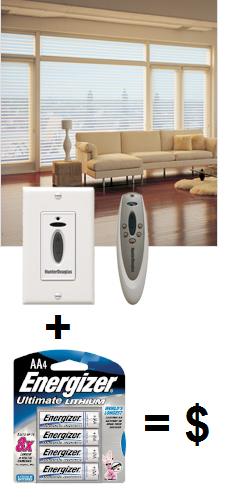 Battery Operated Blinds have been available since 2002 and thousands of these blinds are currently installed in homes. When you purchased the blinds, you were probably told that the batteries would last 2 years and upwards of 5 years or more. By now, you may have found this to be a little mis-leading since changing the batteries many times. Most battery systems require 8-'AA' or 'AAA' batteries and are 12V DC systems. These systems over time are quite expensive not only purchasing the batteries but difficulty in changing them since many of these systems were purchased for hard to reach or high windows that are not easily accessible.
Many of these battery operated window blind systems were manufactured by Hunter Douglas under the branding of PowerRise* or Somfy Systems*. The Somfy Battery operated systems were fabricated by various manufacturer's such as Kirsch*, Graber*, Levolor*, Bali*, Nanik* and are for the most part, 12V DC systems. If you currently own such a battery operated system and were wondering if it could be hardwired, the simple answer is Yes it can! With a little effort and expense, you will no longer need to change the batteries in your shades. If you look at your window, there is usually a duplex outlet (standard 110V AC wall outlet) located near your window. Hardwiring the shade involves fishing low voltage wire from the window shade to a transformer that can be located in the wall in a single or double gang box that is fed off an existing duplex outlet. [Diagram] *Copyrighted Names are property of their respective owners.


Rechargeable Solar Battery Wands are another way to power your existing 12V DC battery shade system. This brand new Solar Powered NiMh (Nickel Metal Hydride) rechargeable battery wand is made by Somfy Systems. It is designed to eliminate the use of Alkaline or Lithium batteries by using a single NiMh rechargeable battery that comes with the unit. The small solar panel attaches to the window with sticky tabs and charges the attached NiMh battery. The new Somfy Solar Rechargeable Battery Pack system will power most existing 12V DC battery operated shading systems including the 12V DC Hunter Douglas PowerRise lift systems made before May 2010. For more details and to purchase < Click Here >

Control Wiring
There are many motorized window covering systems available today and each system has specific control options. The automation control system chosen will dictate which type of control wiring is needed. Many home AV-Integrators can recommend and install the various automation control systems and program or integrate the motorized blinds (any many other applications) into the control system. Technology now allows you to raise and lower blinds or turn your thermostat up or down from your IPad or IPhone...pretty cool stuff!
Confused Yet? As you can see, there are many different types of motors, wire, wiring methods and control platforms to consider. When we are hired for a motorized window covering project, we typically ask a few questions. Are you planning on using an "Automation Controller" ie. Control 4, LiteTouch, Crestron? If so, then we wire for that control platform. If no controller will be used, we then present the customer a few different control options (Wall Switchs, remotes, timers, sensors etc) and wire accordingly.
Automation Control
Many companies producing whole house automation systems have incorporated specific control drivers to operate and control many popular motorized window covering systems. If you are planning on integrating a motorized window treatment system into an automation system, check the specific wiring and control system details so that the correct control wiring can be used before the walls are closed up.
There are also newer control systems that have been around for a few years now that are wireless control platforms namely "ZWave" and "ZigBee". These wireless control systems have come way down in price in the last couple of years and require little or no control wiring since all communication is Wireless. Some motor manufacturer's are now making motors that are battery or solar powered so really no Power or Communication wire is needed and is truly in fact "Wireless". These "Wireless" systems are getting cheaper and easier for the typical consumer to use and program and really offer a great solution for existing homes. The "SmartHome" craze is gaining popularity with projected sales for 2015 around 7 Billion worldwide!

Electricians
Many Electricians are capable of wiring for low voltage systems but are really not familiar with how these low voltage window shade systems operate. The more information that you can supply them with, the better. Most successful projects require open communication between all trades.
Many States have regulations governing both low voltage (DC) and line voltage (AC) wiring while other States only partial regulations. For the DIY, some may find these wiring projects straight forward and simple, for others, beyond the proficiency required. To check if your state requires a registered electrician to wire your project here is a quick link: [NEIS]

Sample Wiring Packages by Automated Shade
Listed below are some affordable wiring packages that are designed to fit mostly any building budget.
| | | |
| --- | --- | --- |
| Starting at $129.00 | Starting at $399.00 | Starting at $599.00 |
Note: Prices listed are for new construction with open walls in the local Pittsburgh, Pa area.